I
nstallation of Home Automation and Security:


1 Energy savings
Some examples in the implementation of energy management are found in:

Connection and disconnection of equipment for presence or timed manner
Regulation zones temperatures
Turning off the heat in the area where the windows are open
Control Appliance nightly rate
Automatic disconnection of different resources that are not being used
Monitoring of the use of energy resources of the property
2

Confort
Comfort is to increase the quality of life of the inhabitants of the building.
Examples of applications of these systems are:
Use of wireless control (remote control)
Regulation of environmental conditions for areas
Automation of irrigation, depending on the weather detected by the system
Automatic activation by presence, remote control, … li>
Using information boards and management
Ability to reprogram easily change depending on the needs
Special attention to elderly or disabled
3Security (people & amp; goods)
The security is to prevent risks and domestic accidents. This section distinguishes between the safety of goods and security of people.
Safety of persons:
We find some examples:

Automatic Lighting risk areas (stairs, ..)
Turn off power plugs (small children, ..)
Issuance of telephonic notifications
Ability to connect to alarm central stations
Leak detectors gas or water shut off valves to housing in the event of leakage
occur
health alarm in case of older people especially (if unwell sends a signal to a hospital for example)
Safety of goods
Intrusion Detection
Volumetric sensors (motion detected)
Sensor microwave frequency (detect noises of broken glass)
Magnetic sensors (detect the opening of doors and windows)
Video Recording Intruder
All these sensors can be placed inside the housing or perimeter surveillance.
Technical alarms
Fire detection
Leak detection of gas or water
No electricity
Simulation of presence
operation of certain equipment
On random light sources
ul>

Remote notice

Issue a telephone call in case of alarm
Notice via Internet
4

Communication
Secure and establish communications within the home and outside.
The possibilities within this pillar are:
Communication systems inside
Communication systems from the outside
Systems of communication with the outside
Connecting service providers such as TV, … li>
Application examples:
tele services (eg intelligent fridge)
Enable / disable devices using voice call, SMS, email, internet
Notice alarms outside
Remote Maintenance
Sharing pictures and sound through the TV screens in the house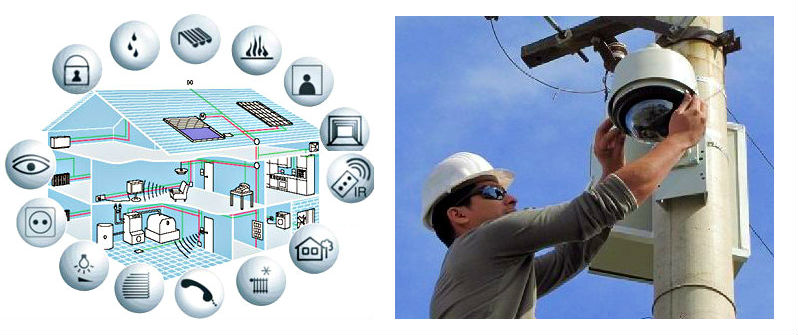 This post is also available in: Spanish